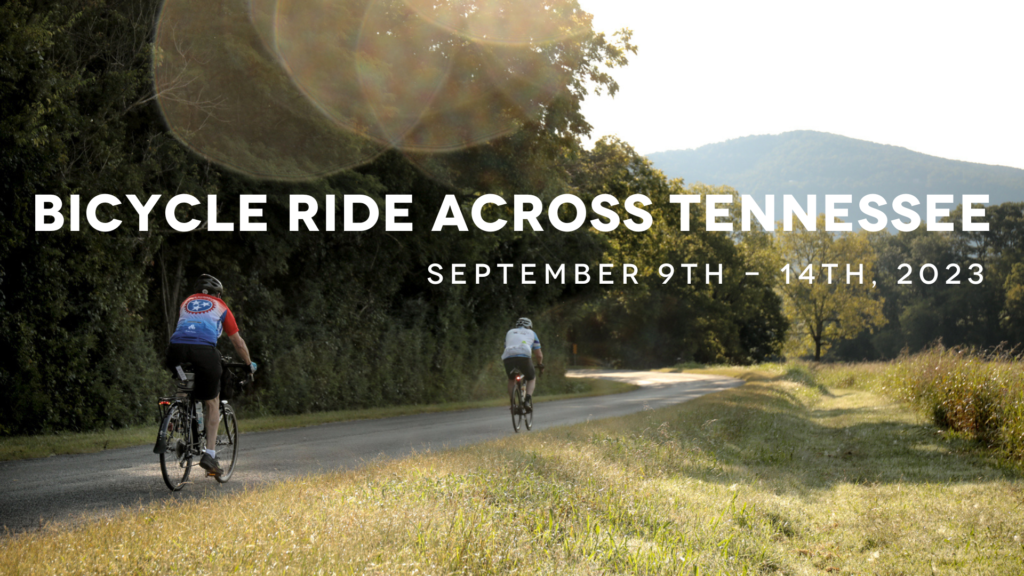 The Bicycle Ride Across Tennessee, also known as the BRAT, is a six-day cycling tour hosted by Tennessee State Parks. The tour changes location every year to allow cyclists to see a new portion of Tennessee each year they return. In 2023, we will be making our way to Paris Landing State Park in Buchanan, TN. Paris Landing is situated on Kentucky Lake, with some of the best views in Tennessee. 
Each day will feature 2 routes ranging in distance from 30 miles to 100 miles. You can expect to see elevation of around 1000 ft for the 30 mile routes, 2600 ft for the 60 mile routes, and 4000 ft for the 100 mile routes. There is truly something for everyone! Rest stops will be along the routes every 15 – 20 miles fueling you with snacks and drinks! Don't worry, there will also be access to restrooms and/or portajohns along the route. Not only will you have access to our BRAT mechanic, but our Rangers will be your personal support and security as you ride throughout the week. See routes HERE.
With your ride registration you can also expect a plethora of other perks! First, you will have access to the newest Tennessee State Park Lodge, where all meals will be served. Both breakfast and dinner will be provided from September 9th through 14th, except for dinner on the last day of the ride, September 14th. Second, a variety of daily programs and activities will be led by our Tennessee State Park Rangers. And third, each rider will receive a BRAT t-shirt, maps and que sheets, and so much more!
With your registration you will automatically be eligible to stay in the designated dispersed camping area, which will be located at the Day Use Recreation Area about a quarter mile from the Lodge. This area will be covered in shade trees, have picnic tables throughout, access to restrooms and portajohns, a shower truck, and limited electric located at the small pavilion. To take a deeper look into the park's layout, check out the park map.
All the proceeds from the ride will be supporting the Cumberland Trail State Scenic Trail, Tennessee Park Rangers Association, The Friends of the Cumberland Trail, and The Friends of Paris Landing State Park.